INDIVIDUAL STUDENT GOAL:
Complete 10 or more reading sessions between March 1-15!
How do students get started?
Follow the three simple steps
Step2: Create Your Profile
Step 3: Track Your Reading Sessions Online
Let the fun begin and START reading!!

Log all reading sessions online (inside and outside of school day)
How are donations accepted?
Students share Read-A-Thon online account via social media and email

Flat Donations are made online with credit card or check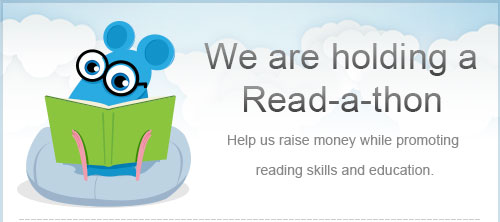 We will be starting on:


2019-03-01

Prizes Earned When A Student Raises Money
Simply create an online Read-A-Thon account and earn a prize!

Readers keep 15% of what they personally raise to spend on prizes from the Prize Center!

Top Performing Class earns an

ICE CREAM SUNDAE READING Party

!